Welcome to King's Early Learners
On behalf of the entire Early Years team, I would like to extend a warm and enthusiastic welcome to each and every one of you. My name is Belinda Coombs, and I am honoured to serve as the Director of King's Early Learners.
At King's Early Learners, we believe that every child possesses unique talents and potential, and it is our joy and privilege to nurture and guide them on their learning journey. Our dedicated team of educators is committed to providing a safe, inclusive, and stimulating environment where your child can thrive, grow, and develop a lifelong love for learning.
We understand that the early years of a child's life are crucial in shaping their future. Therefore, our holistic approach to education focuses not only on academic excellence but also on fostering social-emotional skills, creativity, critical thinking, and a strong sense of curiosity. Through a blend of play-based activities, hands-on experiences, and a balanced curriculum, we strive to ignite the spark of imagination in each child and empower them to become confident and independent learners.
As parents and guardians, your partnership is invaluable to us. We strongly believe in open communication, collaboration, and shared goals. We encourage you to actively engage in your child's learning journey, as we value the insights, expertise, and support you bring to our community. Together, we can create a nurturing and inspiring environment that truly enhances your child's early years.
I am excited to embark on this journey with you and witness the growth and progress of our young learners. At King's Early Learners, we are not only building a foundation for academic success but also laying the groundwork for lifelong happiness, fulfillment, and success.
Once again, welcome to King's Early Learners. I look forward to getting to know each and every one of you and working together to create a memorable and impactful early years experience for your child.
Belinda Coombs,
Director, King's Early Learners
Our Philosophy
Our goal is to create a centre of excellence for children aged three to five years of age.
Our philosophy outlines the set of beliefs commonly held by our community of learners. It defines who we are, what we believe about people, and how we create an environment where learning can flourish.
Our Philosophy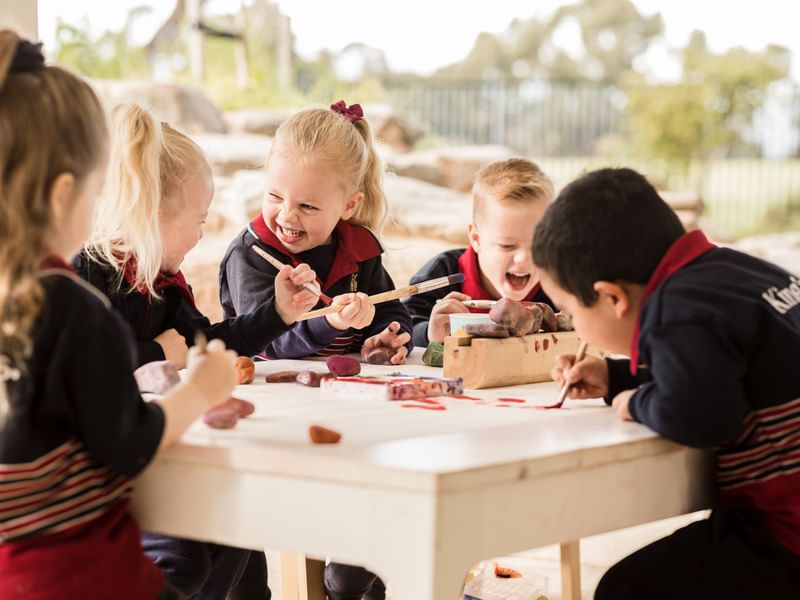 Pedagogical Influences
A major influence is the documented work of the educators from the city of Reggio Emilia in Italy. Reggio Emilia has worldwide acclaim and has influenced the work of thousands of teachers, educators, and researchers on all continents. Its influence is more than the early years (birth to 8) of life and has had far-reaching impact in all areas of education.

King's Early Learners includes elements of the Nature Play movement from Scandinavia and the Forest Schools of Scotland, the Inquiry Approach to learning, Project-Based Learning and Bush Kindy.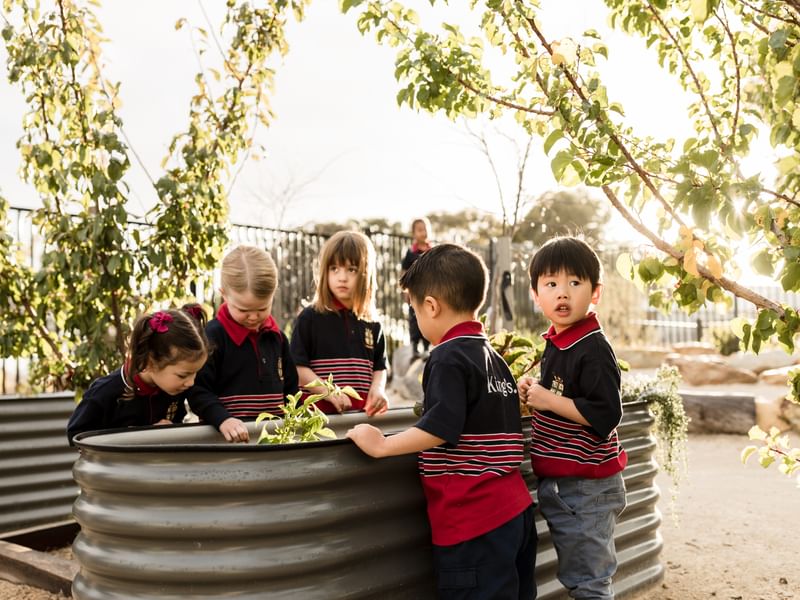 Hours of Operation
The ELC is is open from 7:15am-5:30pm, Monday-Friday. King's Early Learners is open throughout the School Holidays except for the ELC closure over the Christmas and New Years periods.
Fees & Opening Hours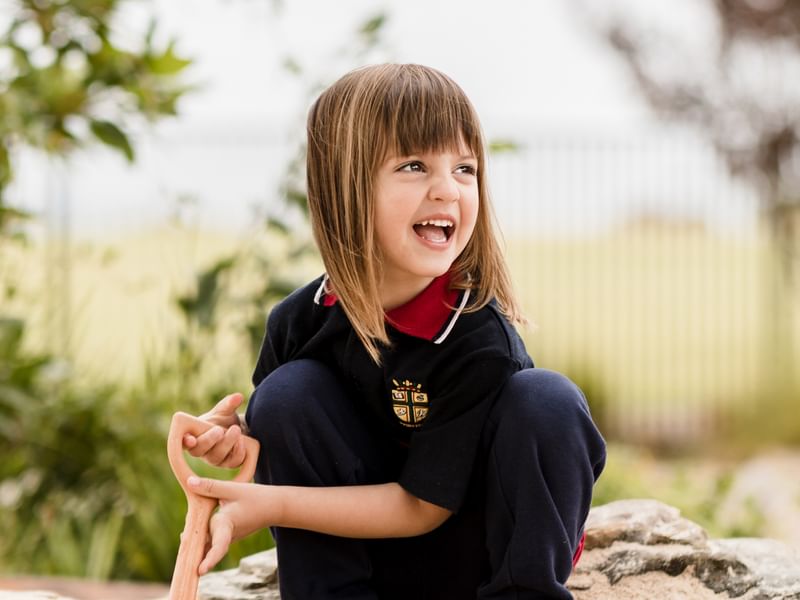 Signature Programs
Bush Kindy is the beginning of an Outdoor Education. We are fortunate to have two local Bush Kindy sites that children visit to study, take care of, and closely observe nature. Children challenge themselves physically, and in their learning dispositions of perseverance and resilience, by climbing rocks and slopes and playing in puddles and, on occasion, splashing in a small creek.
Children plant and take care of herbs, vegetables, fruit, and flowers. The children use the produce in their cooking for afternoon snack time.
The Transition Program between the ELC and Reception is a strong one that grows throughout the year, so that children moving to Big School are familiar with the Early Years classes, teachers, play spaces, library, gym and chapel.
Starting Blocks Website
The ACECQA family focused website (startingblocks.gov.au) supports parents and families through the different education and care stages for their child, delivering trusted information about the NQF and NQS and the quality educational programs and environments of all service types.
Visit Website
Child Care Subsidy
As an approved centre-based care service, you are eligible to claim a rebate under the Child Care Subsidy (CCS). To apply for the CCS, please register online via the Centrelink page at my.gov.au. Please ensure you are registered with Centrelink and have been issued a Customer Reference Number (CRN) for yourself and each child attending King's Early Learning Centre.
Learn More